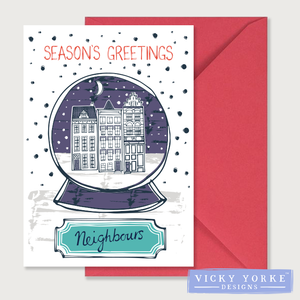 Christmas card in 'Neighbours' design by Vicky Yorke, featuring quirky houses in a snow globe illustration and the sentiment, 'Season's Greetings Neighbours'. The inside is left blank for your own message.
Printed on white linen embossed 300gsm recycled card stock for a textured finish with a complementary red envelope made from recycled materials.
Individually packaged in a bio-based film for protection ( - compostable, biodegradable, recyclable).
Posted in a C5 hardboard backed envelope marked 'Do Not Bend'
Designed & Made at the Vicky Yorke Designs studio in Worcestershire, UK.
Folded card size 13.5cm x 9.8cm approx.
Envelope size C6