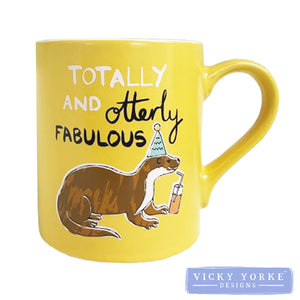 A stoneware mug by designer, Vicky Yorke from her collection, 'Wild At Heart'. Featuring a fun illustration of an otter wearing a party hat and sipping on a drink with the pun, 'Totally And Otterly Fabulous', in Vicky's distinctive hand lettering against a yellow background. 
The same design features on the front and the back.
Whether you love coffee, tea, or hot chocolate, this quirky mug is guaranteed to make you smile! A perfect gift, or a little treat for your home.  
There are four 'Wild At Heart' mug designs available to choose from, or why not collect the set? 
Stoneware mug. 
Dishwasher and microwave safe. Wash before first use. 
Mug size approx. 80mm max (w) (plus handle 35mm) x 95mm (h)
Designed in Worcestershire, UK in collaboration with Captivate Brands under the collection Siip Fundamental. Made in China. 
Please note that product colours may differ slightly in reality due to screen variations.