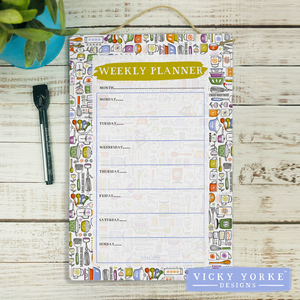 Cut down on your paper usage with this stylish metal dry wipe board / whiteboard by designer, Vicky Yorke. With a beautiful Mid Century kitchen utensil pattern to add decoration to your home, the dry wipe board doubles up as functional and reusable stationery with a space to record your upcoming daily activities. Each week, fill in the the date along with what you are doing each day of the week, so that everyone in your household can see at a glance what is happening that week. At the end of the week wipe the board clean and start again! 
Made of lightweight, but durable aluminium, the Reusable Weekly Planner is supplied with thick natural twine for loose hanging on a wall.* 
A beautiful and thoughtful gift for a busy friend or family member, or for anyone who likes to keep organised. And light for posting too!
Provided with a FREE Arteza non-toxic black dry wipe pen. (While stocks last). 

Aluminium is coated on one side for printing. The reverse is uncoated aluminium ( - silver colour).
Gift wrapped in white tissue paper. 

Size approx. 304 X 203 mm
Designed & Handmade In the UK.
Use only with a dry wipe / whiteboard pen. Other pens may permanently stain the whiteboard. 
Please note colours may differ slightly to those shown on screen due to the nature of the printing process.  
*For a more secure fixing fit suitable wall fixtures using the two holes at the top. (Not provided).