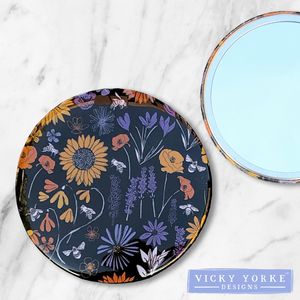 A decorative pocket mirror by designer, Vicky Yorke, in 'Bee Happy - Bee Meadow' design featuring a pretty Art Nouveau inspired pattern of bees and a selection of bee-friendly flowers, including lavender, buttercups, poppies, thyme, croci and sunflowers.
Both pretty and practical, this lightweight mirror is perfect for keeping in your pocket or handbag. The beautiful design makes it an ideal gift and its weight means it is easy to post.
Gift-wrapped in white tissue paper.
Made from high quality metal and glass components.  
Dimensions: 76 MM
Designed & Made In the UK.