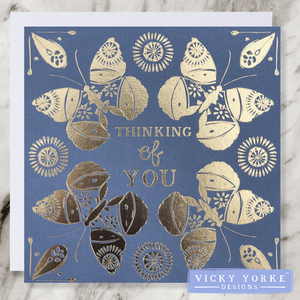 Greetings card by designer, Vicky Yorke, featuring stylish hand-lettering with the sentiment 'Thinking Of You' and illustrated with delicate moths / butterflies. 
Both moths and butterflies symbolise transformation and rebirth. 
This card is ideal for those occasions when you want to let a friend or family member know you are thinking of them. It may be because they are going through a difficult time such as illness or bereavement, or you might just want to say 'I miss you.' 
The inside is left blank for your own message.
Printed on grey coloured* recycled board and covered in a rich gold foil. Supplied with a recycled white envelope.
Individually packaged in a standard clear film** or bio-based film for protection ( - compostable, biodegradable, recyclable).
Posted in a C5 hardboard backed envelope marked 'Do Not Bend.'
Designed & Made In the UK.
Folded card size 13.7cm x 13.7cm approx. 
Envelope size 14.2cm x 14.2cm approx. 
*Please note the printed colour may differ to that shown on screen due to the nature of the printing process.
** Some of these cards are wrapped with standard clear plastic wrapping. It is never my shop policy to order single-use plastic wraps, but this was beyond my control, so where provided, I kindly ask my customers to re-use or recycle at available sites. Thank you.