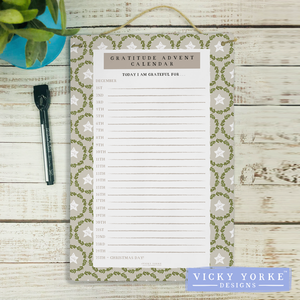 This stylish metal dry wipe board / whiteboard reusable Advent Calendar by designer, Vicky Yorke features a beautiful, but simple star and wreath foliage pattern. 
Advent is the period of preparation for Christmas - and what better way to get ready for Christmas Day then with a special reusable advent calendar that allows you to reflect and record your gratitude through each day of December until December 25th. 
The dated calendar states - "Today I am grateful for..." and asks you to find and write down at least one good thing from your everyday. It enhances well being and positive mental health by encouraging acknowledgment of happy moments, no matter how small or seemingly insignificant. 
At the end of Advent you can take a photograph of your calendar as a keepsake to look back on and reflect on  everything you have been blessed with throughout the Christmas season. Then you can wipe it clean ready to be used again next year. A beautiful tradition to introduce for each festive season, which unlike standard Advent calendars can be reused year after year. 
Made of lightweight, but durable aluminium, the Reusable Gratitude Advent Calendar is supplied with thick natural twine for loose hanging on a wall.* 
Provided with a FREE Arteza non-toxic black dry wipe pen. (While stocks last). 

Aluminium is coated on one side for printing. The reverse is uncoated aluminium ( - silver colour).
Gift wrapped in white tissue paper. 

Size approx. 304 X 203 mm
Designed & Handmade In the UK.
Use only with a dry wipe / whiteboard pen. Other pens may permanently stain the whiteboard. 
Please note colours may differ slightly to those shown on screen due to the nature of the printing process.  
*For a more secure fixing fit suitable wall fixtures using the two holes at the top. (Not provided).