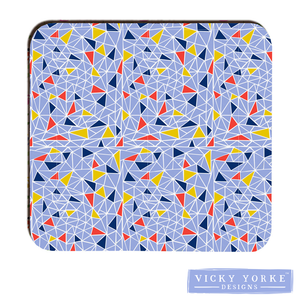 A pot stand / trivet in 'Fragments' geometric design by Vicky Yorke. Strong and durable with a melamine surface to protect the pattern from staining.
An ideal size for tea pots, hot pans, or even for plant pots.
Manufactured using melamine impregnated resin films, hardboard and cork, this chopping board is heat resistant up to 130°C. 
Designed & Made In the UK.
Handwash only. Do not soak.
16.2cm x 16.2cm approx.