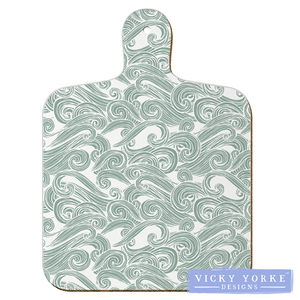 Small chopping / serving board in 'Seascape' waves design by Vicky Yorke. Strong and durable with a melamine surface to protect the pattern from staining.
An ideal size for chopping fruit and vegetables, or the decorative design makes it perfect as a serving board for cheese, meats or cakes.
Manufactured using melamine impregnated resin films, hardboard and cork, this chopping board is heat resistant up to 130°C. 
Designed & Made In the UK.
Handwash only. Do not soak.
17.5cm x 23.7cm approx.